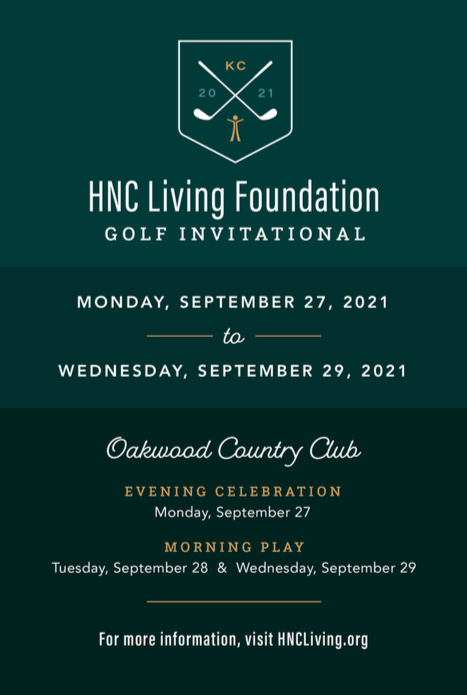 Join us September 27-29, 2021 in Kansas City at Oakwood Country Club
Registration for the HNC Living Foundation Kansas City Invitational is now open! We are proud to host this tournament at Oakwood Country Club, September 27 – 29, 2021, and anticipate that the local nature of the event will lead to a sold out field — register today!
The field is limited to 30, two-person teams who will enjoy fast-paced play through two half-days of Stableford scoring at the newly renovated Oakwood Country Club. Entering its 140th year, Oakwood Country Club has recently undergone a breathtaking modern transformation to renovate all facilities. With Oakwood's golf course transformations, it's well on the way to becoming one of Missouri's and the region's best courses. Tournament prizes will be awarded to Team Champions. Other great golf trips will be raffled to those who purchase tickets. View full prize descriptions below.
Registration is $6,000 per team for this premier golf event. $2,300 may qualify for a tax deduction for single-player registrations. $4,600 may qualify for a tax deduction for team registrations. All proceeds go directly to supporting patients battling head and neck cancer.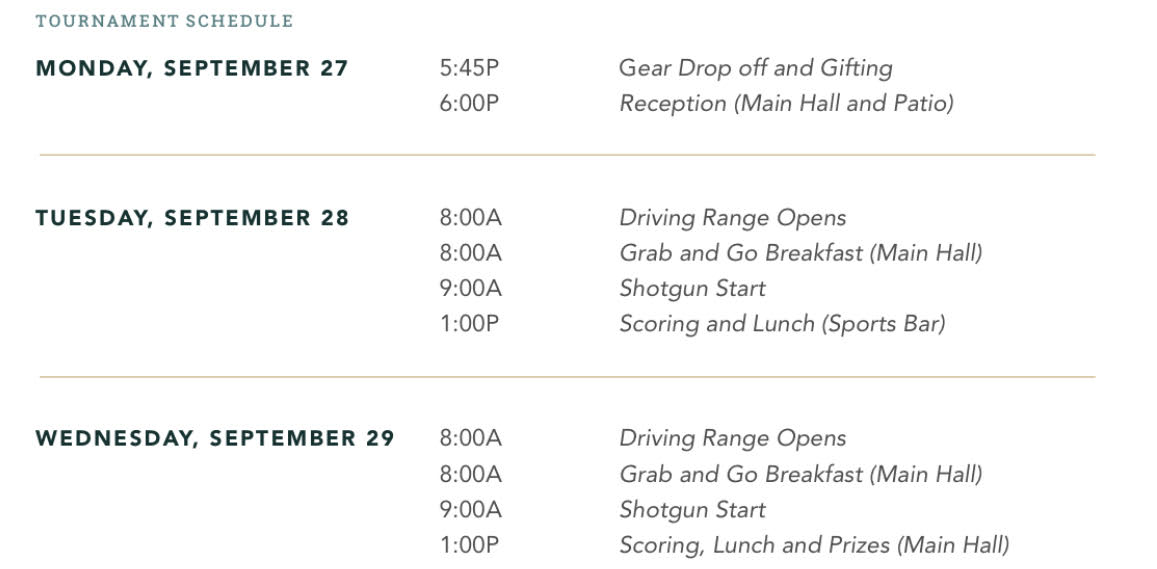 Tournament Prizes
Enjoy 18 holes of golf for the winning team at Oakmont Country Club in the suburbs of Pittsburgh, PA. The winners will enjoy private air travel via NetJets to and from Pittsburgh from Kansas City.
Additional Option: In exchange for a contribution to HNC Living Foundation, this trip can be expanded to include overnight hotel stay, dinner, and 18 holes at Pittsburgh Field Club with return private air travel held over for next day return.
Oakmont remains perhaps the most difficult course in North America, with 175 deep bunkers (personified by the Church Pews), hard and slick greens that slope away from the player, and tight fairways requiring the utmost precision. Oakmont was the site of "the greatest round of the 20th century": Johnny Miller's final round 63 at the 1973 U.S. Open. Golf Digest ranks Oakmont #5 in its most recent version of America's Top 100 courses.
Special Thanks to Mr. Trey Barnes
Raffle Selections*
Enjoy 3 nights at a luxurious private residence in a gated community in Santa Fe near the Santa Fe Opera and 2 days of unlimited golf for four people at The Club at Las Campanas, site of the 2018 and 2019 HNC High Desert Invitational Tournaments. The accommodations are suited for up to 8 people, making the trip ideal for 4 couples to explore Santa Fe as well as enjoy outstanding golf at Las Campanas.
Golf rises to a new level on The Club at Las Campanas' two Jack Nicklaus Signature Golf Courses, both consistently rated among the very top courses in New Mexico by Golf Digest magazine. Members enjoy the strategic course design and thoughtful layout at 7,000 feet elevation woven through the natural high desert beauty of northern New Mexico. Each of the award-winning, 18-hole courses offers an unparalleled golfing experience enhanced by glorious mountain vistas.
Special Thanks to Teresa and Tom Walsh
Enjoy 36 holes of golf for 3 people, hosted by Dave Dyer at Butler National Golf Club over two days and an overnight stay at The Drake Hotel. Players will enjoy dinner and breakfast at the club and private air travel via NetJets.
Butler National Golf Club is an exclusive private, members only golf club, located in the western suburb of Oak Brook, Ill. The club has a traditional 18 hole golf course, previously hosting the Western Open tournament from 1974-1990.
Special Thanks to Mr. Dave Dyer
Enjoy 36 holes of golf for 3 people, hosted by Marty Bicknell at Rich Harvest Farms and an overnight stay in one of the cabins at the club. Players will enjoy dinner and breakfast at the club and private air travel via NetJets.
Tucked between wetlands, forest, farmland, and Illinois prairie grass, Rich Harvest Farms is a breathless masterpiece unlike any other. Nearby Chicago is a world away as Members and their guests experience world-class service and amenities in an exclusive golf club atmosphere. Golf Digest ranks Rich Harvest Farms at America's 100 Greatest Courses and in the Top 10 in Illinois.
Special Thanks to Mr. Marty Bicknell
* All Raffle prizes must be coordinated with the host for available times
Private air travel provided for Oakmont, Butler National & Rich Harvest Farms provided through NetJets, HNC Living Foundation and Teresa and Tom Walsh
The High Desert Invitational Golf Tournament is a charity invitational golf tournament in Sante Fe, New Mexico with the proceeds benefiting the HNC Living Foundation Endowment Fund. Using the Stableford Scoring system, two-player teams will compete for Team Champions, Highest Individual Points, and Individual Runner-up along with skins games each day.
Throughout the three days spent in Santa Fe, each guest will enjoy private room accommodations and competitive play on the Jack Nicklaus Signature Sunrise and Sunset golf courses at The Club at Las Campanas, amazing food and drink, and (most importantly) fantastic company.  Guests are responsible for travel to and from Santa Fe, we take care of the rest.
Inaugural HNC High Desert Invitational raised more than $76,000 for the HNC Living Foundation Endowment Fund.
In May 2018, HNC Living Foundation hosted its inaugural charity invitational golf tournament in Santa Fe, NM with the proceeds benefitting the HNC Living Foundation Endowment Fund. Twenty-eight players filled out fourteen two-man teams and competed over two days at the picturesque Club at Las Campanas. Players in the event came from Kansas, Missouri, Illinois, Colorado, Texas and New Mexico.
"Our foundation continues to be contacted by patients in need well beyond our Kansas City area roots. The idea for the tournament was to expose the foundation to community leaders beyond Kansas City, explain our mission and the needs we fulfill, as well as generate some funding toward our endowment fund to help ensure our longevity,"  said Tom Walsh, co-founder and host of the event. Dubbed HNC High Desert Invitational, the name says it all; it's an invitation-only event, hosted in the high desert of New Mexico, as Santa Fe is at 7,000 feet above sea level.
Registration fees paid by the teams covered all costs associated with the event other than travel expenses to and from Santa Fe, and generated over $76,000 in net proceeds to HNC's endowment fund. While there, players enjoyed a reception at Teresa and Tom Walsh's home, two glorious days of golf, a banquet at The Club at Las Campanas and an awards ceremony upon conclusion of the event on Wednesday May 16, 2018. Prizes were awarded for the Low Net Team, Low Net Individual Score, Low Gross Individual Score and skins games each day of the two-day event. In addition to the prizes, a golf trip for four to Boot Ranch in Fredericksburg, TX was actioned off generating additional funds for the foundation.
2018 HNC High Desert Invitational Results
Low Net Team Champions:
Bob Page, The University of Kansas Health System and Mike Brown, Burns & McDonnell
Low Net Champion:
Mike Brown, Burns & McDonnell
Low Gross Champion:
Kevin Ward, Mariner Wealth Advisors